Over the years, Dubuque has embraced the characteristics that make it a special community to visit and live in, and today it still supports its unique, one-of-a-kind charm that is evident in its many locally owned and operated restaurants and shops. If you enjoy finding goods that you can't find anywhere else, this is the guide for you! Agents in our Dubuque office shared their favorite stores that call Dubuque home. 
Home Stores
Possibly the first stop on your list if looking for a little bit of everything should be Fig Leaf. This sweet boutique, located in Dubuque's history Cable Car Square has clothing and shoes for women and children, home decor, soaps and perfumes, dinnerware, and grooming kits for men. They truly have a little bit of everything. 
Calico Bean Market "has a great selection of treats and pantry essentials." This shop was one of the most recommended places to shop because of its, "fresh spices, oils, vinegars, candies and sprinkles and ground to order peanut butter!"
Not everyone has a green thumb and that's exactly why you need to visit Planted, the 'plant matchmakers!' There are many benefits of owning and taking care of plants, but for some, keeping greenery alive is better in theory. However, Planted's approach is that they will help you find the plant that fits your lifestyle so you stand a better chance of caring for a plant that suits you. 
Looking to furnish your house? RF2 Furniture Warehouse is where you go for "eclectic urban and modern vintage" furniture and decor. You can purchase either custom pieces or buy directly from the floor, which is a fantastic option for those ready to add some immediate home decor changes. 
It may seem odd to refer shoppers to an Ace's hardware store but The Shoppe's at Steve's Ace is not your average hardware store. Steve's Ace includes a children's boutique, a flower shop, and of course, home & garden.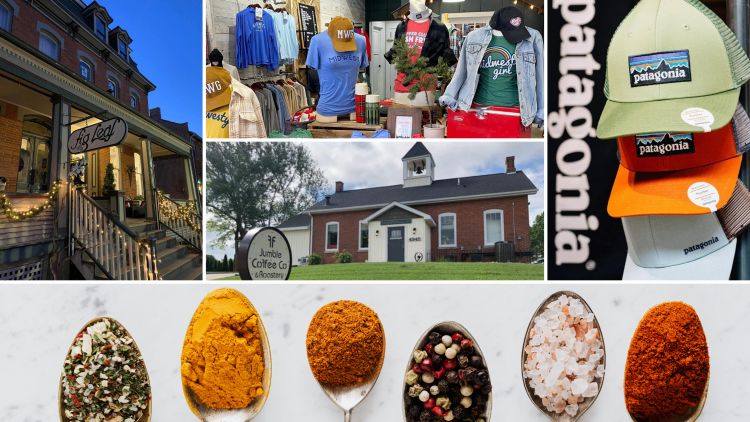 Bicycle Stores A Plenty
What can we say, Dubuque loves to bike and ski! 
The Bike Shack has been around since 1979 providing Dubuque residents with their bike and outdoor specialty products they need to help you kick start or continue their health and fitness journey. 
For over 48 years Bicycle World has been offering the community high-quality bikes and ski options while also keeping equipment in good order with great customer service and bicycle repair. They also offer bike rentals which is great for a fun week of exploring. "You can't buy happiness but you can buy a bike, and that's pretty close."
Free Flights is another recommended business that specializes in cycling, skiing, and fitness. They've got you covered for trails, slopes, and treadmills!
Clothing & Retail
Shopping for fine clothing can be difficult even at the best of times. At Grahams Style Store you can experience personalized shopping with first-class customer service. Family-owned and operated since 1936, Grahams has a great reputation in the community with "…great service and good quality clothing. Ben also has the memory of an elephant, when it comes to clothes I bought there. He remembers them better than I do."
Located in the Historic Millwork District, Midwest Girl offers "goods from the heartland." Two sisters from Wisconsin run this local tee shirt brand and the business is a homage to their small town.
What's better than finding clothes that fit and look amazing? You can be confident you will find these items at AJ's Boutique, a size-inclusive, high-quality clothing store for women. 
Looking for the latest trends for yourself or your kids can be hard on a budget. Enter Vivie's Boutique! Vivie's boutique strives to be the "brand for women who want to up their style without the extra cost." And of course, they have cute styles to make those who shop at Vivie's feel beautiful inside and out. 
Namaste Athleisure Wear is a beautiful store, located in the history Millwork building, with a beautiful message. Life is about balance and it's their mission to help others balance their professional lives with their home lives in clothes that make them feel comfortable in their own skin. Namaste is stocked with investment athleisure wear that will last for years and years. 

Coffee 
Jumble Coffee is your stop for organic coffee! With multiple locations in the Dubuque area, you can find everything you need to enjoy a cup of joe including drinkware and accessories. Both shops are historic in look but their School House location actually is historic and resides in an old schoolhouse dating back to 1845. And for $1.00 you can ring the bell.  If coffee isn't your thing they offer tea or smoothies and delicious burritos and pastries!
Monks Kaffee Pub gives you coffee with a side of funk. Monks is a hip coffee spot which a relaxed atmosphere. It's a must-stop for sipping your coffee while viewing art on a comfy, cozy sofa.
To learn more about the Dubuque area and what it has to offer like community events and favorite restaurants – check out our Dubuque community page. View homes for sale, find an agent, and learn more about the town nestled along the Mississippi.