Walking through DeWitt's Downtown District can easily transform any mood, especially if your favorite music is playing on the speakers! And maybe that's why DeWitt's events are so fun, the music and atmosphere just don't allow for a bad day! Agents in our DeWitt office shared their favorite events throughout the year they look forward to attending.
A Town Gem – Lincoln Park
The town's Lincoln Park is a busy location that hosts many events throughout the year. With weekly farmer's markets and summer concerts, the warmer months are jam-packed with activities. But don't worry the colder months are just as fun!
All summer long you can enjoy a concert in the Lincoln Park band shelter by attending Tunes in Town. Not only can you catch some tunes but food too from local restaurants and food trucks! So grab a lawn chair and wear clothes you can dance in and get ready to have a great time!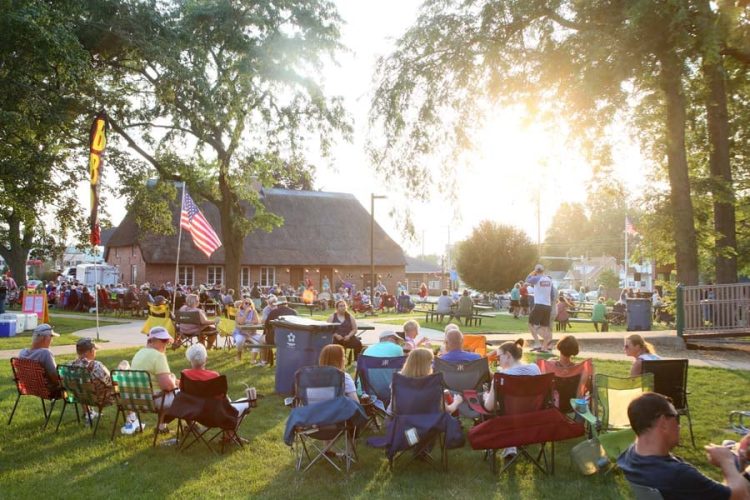 Another entertaining event held in Lincoln Park is Movie In The Park. Each month a local sponsor hosts a movie night in the summer from June – September. This is a big hit for families with kids or those who love a good animated classic!
Christmas time is a magical time for many, and the DeWitt's Annual Hometown Christmas! makes it even more magical.  In early December you can celebrate the festive time of year with a Christmas carnival, parade, community window walk, gingerbread house and wreath contest and so much more. It's a joyful day filled with activities and fun for all!
Looking for an event to participate and support your community, but without kids? Say hello to the DeWitt Wine Walk. What started as a new summer event in 2020, the event is here to stay and is only growing in attendance. Taking place along 6th Avenue, sip and shop and experience Downtown DeWitt in a different way!
The last evening of Movies in the Park kicks off the Autumn Fest, an annual event where the DeWitt Chamber thanks the community "for supporting local businesses."  On Saturday, Autumn Fest transforms into a fun-filled activity zone with inflatable obstacle courses, face painters, live music, a magic show, and a sidewalk chalk contest. "There are great food vendors, local businesses have booths to visit, stuff for the kids to do and a car show!"
To learn more about the DeWitt area and what it has to offer like community events and favorite shops – check out our DeWitt community page.
View homes for sale, find an agent, and learn more about the town with all the small-town charm!