Davenport, Iowa makes up 1/4 of what is referred to as the Quad Cities. Davenport is located along the Mississippi River, and because of this, it has had a vast industrious history. This history is clear even today as you walk through the downtown area or visit the Village of East Davenport. The buildings and homes in the area are a delightful mix of old and new, with many of the older homes restored back into their former glory. The same can be said about many of the dining establishments in the area. So many of the restaurants are housed in renovated buildings that were meticulously restored and converted to places we now frequent. Agents in our Davenport Office have shared their favorite restaurants, cafes, coffee shops, and breweries throughout Davenport, many with rich histories of their own!
Coffee & Cafes
 Redband Coffee Company is a staple for many caffeine addicts in Davenport, this may be obvious by the long line at the downtown location on 4th Avenue. Don't forget to order a fried egg sandwich, it's the perfect companion to your coffee!
If you know the Quad Cities well, you know that Cool Beanz Coffee House is originally a beloved Rock Island business that recently opened a second location in Davenport. Cool Beanz offers all your morning favorites from coffee to baked goods and also serves heartier options for breakfast and lunch if you come with an appetite!
Attention brunch fans, Toasted is the area's newest brunch spot serving up delicious breakfast, brunch, and lunch options like cinnamon roll waffles or lemon poppyseed pancakes for those who love a sweet dish and Wild Mushroom & Goat Cheese Toast or Smoked Salmon for those who love savory. 
Cafe d'Marie is a truly unique dining experience in that this cafe is in the owner/chef's home! DeAnna opened the doors of her home located in the historic Gold Coast/Hamburg district to introduce the community to her "eclectic mix of unique American dishes with added European flair." Try their Quiche De Jour, or one of their perfectly crispy paninis, either way, you can't go wrong. 
Fine Dining
Duck City has been a local favorite for YEARS! From the moment it opened in 1991 it became an instant fan favorite and it's due to the fact that the food is unrivaled and features dishes with a heavy international influence.  Every entree is cooked to perfection and will have you savoring every bite.
Monarch is an elevated dining experience featuring American favorites with a twist. The interior is cozy yet trendy, a perfect spot for a date night! You can't go wrong with any dish you order, but we recommend reviewing the Chef's favorites for entrees like House-made Bucatini pasta with Pesto Cream or Lobster & Shells! And definitely don't skip on dessert!
With description 1/2 Nelson it's hard to if you describe the gorgeous interior design or the delicious food. Suppose we should focus on the food, however, the atmosphere at 1/2 Nelson is unmatched! Now onto the food, spend some time review the appetizer menu and you'll find delicious and unique appetizers like the crab beignets. Entrees are focused on quality steaks and seafood, but you will also find a cauliflower main dish! We recommend making a reservation for this downtown gem.
You can't help but notice both Stompbox Brewing and Kitchen Bridage because of the building's dark and ominous exterior. Let its attention-grabbing presence lure you inside, you won't be disappointed! Kitchen Brigade is located within Stompbox Brewing and this restaurant offers a blend of sophisticated ingredients to well-known dishes. And if you were a fan of the Crepe Guy you can still find his featured crepe of the day here!

Casual Dining
The idea to open Me & Billy  is a simple one, be "a bar with great food." We think they nailed it. Me & Billy is a fun place to hold an event, meet friends for a bit or catch up over drinks. At Me & Billy, you can do it all.
Alright, it's not every day you can provide directions to people to meet you "at the place with the golf cart on the roof." Armored Gardens is fun, eccentric, and clear in its identity and that makes us love it even before having a drink or grabbing a bite. For those who love a great brew, you'll want to check out their Century Club. Drink through 100 tabs and earn prizes as you go!
Expect something different at Zeke's Island Cafe in downtown Davenport. It's Island cuisine with a twist!
Retro name and retro decor, that's The Diner ! With cheese curd apps called 'Hot & Curdy' you know this place likes to have fun with their dishes. Not only is the food delicious but it also pays homage to classic dishes made for decades, but of course with a little spunk.
Your classic deli in the heart of The Village of East Davenport. Village Corner Deli offers a large New York Style deli to the QC which is evident from the menu. New York staples with fun Iowa names.
Ruby's is Quad Cities cyclist bar. They've got bikes, they've got beer, and they've got brats! The cycling garage is one part of the building where you can get your bike fixed or maybe buy a new one while waiting for your order. The other part is the bar featuring great food and brews. Outside they have pickleball and volleyball courts so you can sign-up for a league or schedule a game!
Double D Diner is a classic dinner offering classic breakfast dishes like biscuits and gravy cooked just how you like it!
girl + Food has a desire to get back to the basics. The owner, Amanda of Cafe Fresh in Moline wanted her next establishment to focus on the simple things and get back to her roots. " I had a passion for food & I wasn't quite finding what I was looking for out there, so I took a leap of faith & got to work." Enter, girl + food.
Italian/Pizzeria
When you website shares reviews from celebrities raving about your food you've got to be doing something right!
"AS GOOD OR BETTER THAN ANY IN NEW YORK!"
– Country music singer Vince Gill
"IT'S SPICY AND SO, SO GOOD!"
Actor Tom Arnold
We can't authenticate that Vince or Tom ate at Lopiez Pizza, but if it's as amazing as they say, you can't pass on trying Lopiez.
The Grinder's & Spaghetti House is Italian and centers around "family style dining at its finest."
Brew Pub
Come to Front Street Brewery to enjoy a bit of history with your food and beer. Front Street opened its doors in 1992 and is the oldest brewpub in the state of Iowa. The brewery began in the basement of its current pub location which is a 100+-year-old building in downtown Davenport's Bucktown neighborhood. Front Street has a second location featuring a taproom right next door to the Freight House Farmer's Market. You can order the dishes you know and love from a pub including fish & chips, burgers, Philly cheese steak, and cheesy starters like fried cheddar sticks and poutine!
Sippi's is located in downtown davenport and as you can see below, it has a major glow-up! The restaurant features American cuisine and hundreds of craft brews! From melts to BLTS and tenderloins to seafood and everything in between stop in Sippi's to get a hearty meal!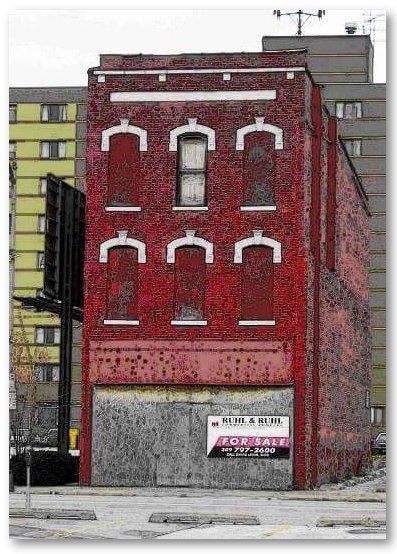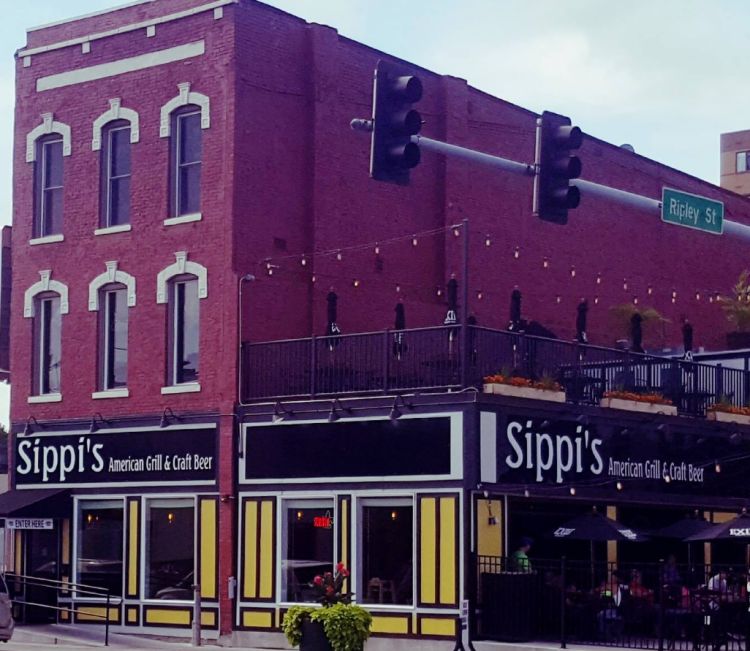 Talk about a glow-up! Photos from Sippi's Facebook & Website.
Filling Station is an Americana relic with a mission to honor those who appreciate the history of when times were simpler and work was harder. You'll understand this the moment you enter The Filling Station by the architecture and decor. It's your go-to spot for a good burger, wings, ribs, and pizza!
Rookies is more a sports bar than a brewpub but a place that offers great bar food and drinks all the same! Always a good time, whether you remember the next morning or not!
BREW in the Village is at its core a mom-and-pop establishment even if it looks much larger than expected. They also believe "there is no good substitute for good cheese and that if you're not enjoying yourself, then neither are we." The energy at BREW is lively and authentic while encouraging you to "Smile. Laugh. Drink. Gab. Eat." Grab some Brew Bites like stuff mushrooms or BREWschetta and follow it with a flatbread, sandwich, or BREW bowl.
Asian Cuisine
When the mood strikes to eat traditional Asian dishes like Pad Thai and Pho you'll want to go downtown and visit  Miss Phay's. Miss Phay's has an extensive Drinks menu and during Bix Week they feature a Bix Blood Mary topped with Lemongrass Grilled Chicken and an egg roll!
Located in downtown Davenport near the Freight House Farmer's Market, Taste of Ethiopia provides local residents with a dining experience and bold flavors that are hard to find anywhere else. It's a great plan to share a platter with friends and family.
Another local favorite is Exotic Thai. The menu leaves nothing off the table from Curry to Wok and Thai Rolls toCrab Cheese Puffs.  You are bound to find your tried and true dish or explore and find something equally as good!
No one does apps quite like Tantra Asian Bistro. Crab cakes, lettuce wraps, fried calamari, and the apps menu alone can fill you up! But don't dare leave without ordering either a Tantra Bowl, Noodles, or Signature Stir-Fry!
If you're craving Thai food, don't visit Soi 3 's Facebook page. It is chock full of delicious dish after delicious dish. The one we're fixated on is the Kimchi Noodles!
Mexican Dining
One agent raved about his experience at Abarrotes Carillo as "Best Mexican food hands down." Stop in and see if he is right!
You'll never have to search too far to find Rudy's Tacos in Davenport. With three locations you can easily find a Rudy's when you have a craving for a taco!
What's better than a family restaurant? Los Primos is owned by cousins who have a common goal of "serving the very best Mexican food," in Davenport by serving up the freshest veggies and highest quality meats daily. 
A community staple like Ganzos Mexican Restaurant will always find its way onto our referral list! Family-owned since 1952, the Quad Cities has benefited from the delicious family recipes Ganzo's has shared over the years. With a motto like "Never go home hungry,"  you can be sure you will get enough food to fill you up and then some!
Sweet Treats
Here's The Scoop is a locally-owned shop in The Village of East Davenport and they specialize in offering small batches of handcrafted gourmet ice cream. They have your favorites like chocolate and vanilla but they also offer a Lavendar Honey Comb and Strawberry Balsamic. The range this ice cream store has is simply impressive!
The Chocolate Manor has been making hand-crafted artisan chocolates and treats for over 20 years locally in the Quad Cities. If you love chocolate you must add Chocolate Manor to your list. Since batches are made by hand and in-house its recomm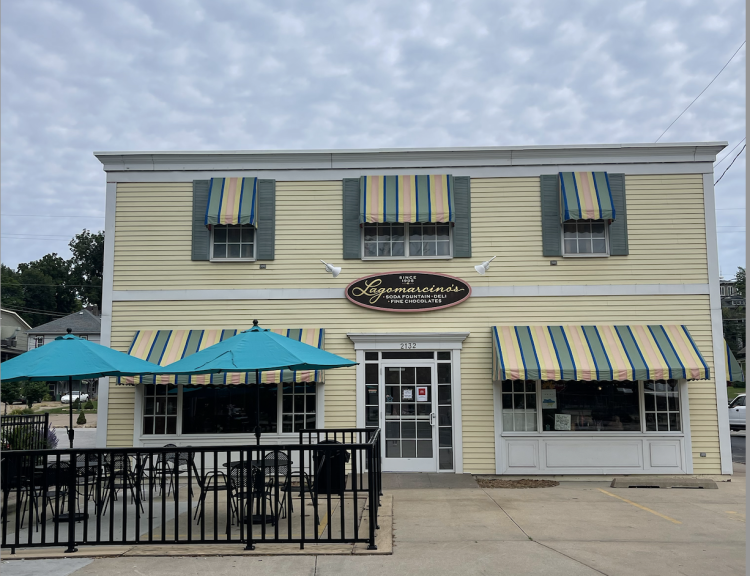 ended you continue to stop in the store to see the latest delicious sweet treat they have to offer.
Lagomacinos has been a historic fixture in the Quad Cities since 1908 and it is still operated by the Lagomarcino family today! Lagomarcinos opened its doors first in Moline, IL,  and also has a location in The Village of East Davenport. The store in East Village is a sight to behold. Stop in to of course sample their chocolates and assorted candies but make sure you leave with a jar of their famous hot fudge!
To learn more about the Davenport area and what it has to offer like community events and favorite shops – check out our Davenport community page. View homes for sale, find an agent, and learn more about the town bursting at the seams with history!