It's best to come hungry as Clinton is home to several delicious dining establishments. Dining in Clinton can be picturesque since many restaurants and cafes are in historic, often restored buildings. Not only is the food great, but so is the atmosphere. Agents in our Clinton office shared their favorite places to dine in and around Clinton. If you're up for crossing into Illinois, you'll also find options in Fulton!
Breakfast & Brunch
Krumpet's Restaurant & Bakery in Fulton is the ultimate brunch stop in the Clinton area. If you are a brunch person this is the place for you! Krumpet's has a wide array of delicate pastries that can be hard to find elsewhere! But that's not all they're known for, alongside a lunch menu of deli favorites and a full coffee bar it's easy to see why our agents were quick to recommend this community favorite! Riverfront Marketplace & Coffee shop has everything you need to put some pep back into your step. Whether it's boba, smoothies, or coffee, you can't go wrong with anything from Riverfront Marketplace. If you're not in need of an energy boost, stop in anyway to check out the constant rotation of hand-crafted items, food, and even live music. If you're at a party with treats from Cake Fantasies by Ashley, then you're in luck. Known for her amazing decorated cakes and gourmet cupcakes, Ashley is an absolute favorite in the Clinton community. You can pre-order cake pops, brownies, and other staples baked goods. 
Fine Dining
The Candlelight Inn is perfect for an evening of sipping on the Mississippi. The candlelight prides itself on its consistent service, serving the best-quality product, and having the best staff. The Chicken George comes highly recommended.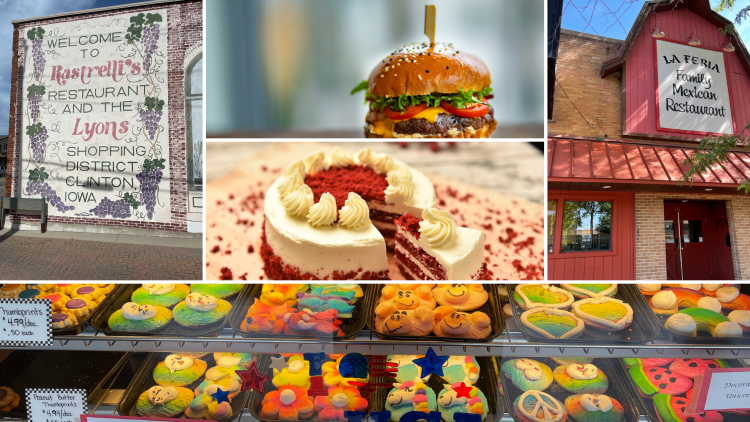 Italian/Pizzeria
Saint Giuseppe's Pizza opened its doors in 1997 and has been serving delicious hand-tossed pizza ever since! There is no other way to describe their pizza than 'heavenly'. When Italian food is good, it's good. Rastrelli's is the best Italian place in town. Channel your inner Tuscan with a well-rounded wine menu and classic Italian fare. And with dine-in and take-out options, you can take a slice of Italy home.
BrewPub & Casual Dining
Need a drink? Some good bar food? Clinton has you covered:
Asian Cuisine
The sushi is cold and hibachi is hot at Fujiyama Japanese Steak House! Everyone loves a classic California roll, but you'll be delighted by the unique specialty rolls at Fujiyama.  Yen Ching's Chinese Restaurant seems to be a cult classic in the Clinton community. It's not uncommon for people to have been going to Yen Ching's for years. One man even claims "it's almost reason enough to move to Clinton!". When you're looking for your next take-out pick, be sure to give Yen Ching's a try.

Mexican Cuisine
In downtown Clinton, there is a little Mexican restaurant called Mijitas. Our sources say it's the best in town. They always have new and inventive menu items that you can't find anywhere else. They even have a breakfast menu! La Feria is adored by many in Clinton. Their food is praised for its authenticity and generous portions. La Feria is great at accommodating their vegetarian patrons. If you like good Mexican food and even better margaritas, El Toro's Restaurant & Cantina is the place for you.
To learn more about the Clinton area and what it has to offer like community events and favorite shops,  check out our Clinton community page. View homes for sale, find an agent and learn more about the town nestled along the Mississippi.