Iowa's friendly people, low crime rates, affordable homes, and small-town atmosphere make it a highly desirable place to put roots down—but one of its biggest and most sought-after draws? The staggering natural scenery.
When it comes to outdoor recreation, Iowa has expansive State Parks that attract adventurers from all over. Whether you're looking for something mellow for the whole family or you're itching to test out those new hiking boots you just bought on a trail, shall we say, a little more off the beaten path? There is a park, a peak, and a picnic table waiting just for you right in your backyard.
While you explore Iowa real estate and the many homes for sale in the area, don't forget to take into account the beautiful parks, lakes, trails, and paths that will surround your new home, you just have to pick your landscape!
Learn More about the Iowa State Parks System
Did you know that most Iowa State Parks are open year-round and that many of them are free? That means that at any time of year, you and your family can enjoy the great outdoors whenever you like!
Many homes in the Iowa area are just minutes from more than 60+ state parks in the region—you read that right—60+! And they're all waiting to be explored. The parks within the Iowa State Parks System are broken up in one of two ways: they are either taken care of by the Iowa Department of Natural Resources or by the county they are located in.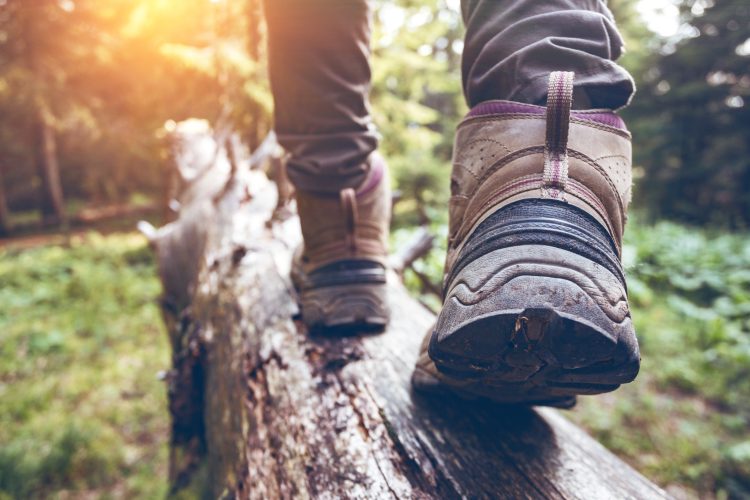 The Iowa State Parks System has a long history of putting conservation efforts first when it comes to recreation—and they are one of the first government agencies to recognize protecting the natural resources and areas of Iowa is critical to the state and its residents as a whole—which is yet another wonderful reason why so many people choose to move to this state.
From conservation efforts and statewide education programs to volunteer groups that ensure these magnificent areas can be enjoyed for years to come, the Iowa State Parks System is always looking for ways to protect the environment, save water, and keep the residents of Iowa happy and healthy. Residents and visitors alike take pride in these larger-than-life natural playgrounds, especially when they feel like they're a part of your home! Many residents enjoy scenic views from their living rooms and take advantage of the beautiful plants and wildlife they share this wonderful region with on a day-to-day basis.
Don't Forget Your Passport!
For transplants to the area (and locals alike), we heard that the Iowa State Parks Passport is back! If you don't know what it is, it's one of the best ways to take on the Iowa landscape. It may be a secret to some, but Iowa has some of the most beautiful state parks in the Midwest, and the Iowa State Passport is an exclusive guide curated specifically for them. Check in and track your progress as you adventure state parks throughout the region. With the Iowa State Parks Passport, you can also earn prizes (and some bragging rights along the way)!
The passport lives on your phone and is ready to use once you confirm your information via text or email. The more parks you visit, the bigger chance you have of winning some pretty neat prizes while you make memories along the way that will last a lifetime. It's a great way to connect with the region and settle into your new home, too.
Let the Adventure Begin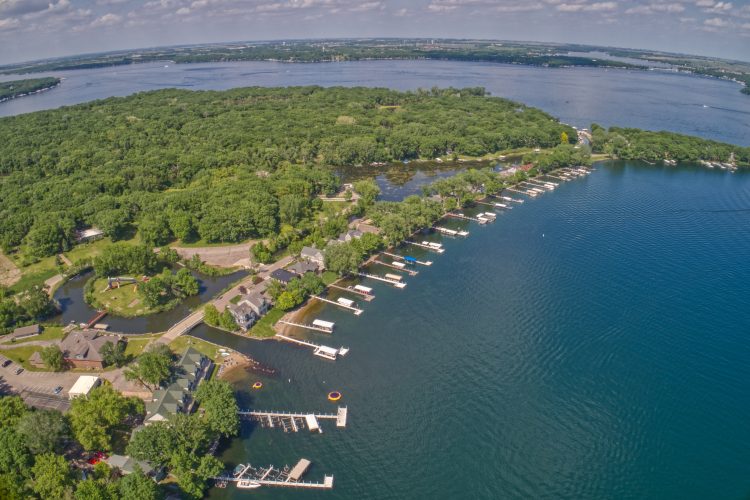 Be a force of nature! Iowa is a breathtaking place full of winding trails, verdant hills, flourishing trees, and active wildlife. Many Iowa State Parks offer fishing, paddling, biking, hiking, swimming, boating, and beaches for those who just want to lounge around and enjoy the sun. There are over 4,000 camping sites throughout each of Iowa's state parks and hundreds of cabins, yurts, and RV spots to choose from. If you're looking for day-use areas, most (if not all!) of Iowa's state parks have lodges, picnic tables, gazebos, and more.
Let's get into some of our favorites!
Maquoketa Caves State Park
Only 10 minutes from Maquoketa proper, about 30 minutes from DeWitt, and an hour if you're coming from the Cedar Rapids Area, we had to start with Maquoketa Caves State Park—after all, it's just so unique!
This six-mile trail winds through enormous bluffs, hills, wooded areas, and of course, caves—so don't forget your flashlight! There are about 13 caves throughout Maquoketa Caves State Park that range in difficulty. Don't be surprised if you see some hardcore spelunkers making their way through some pretty tight spots.
This trail is nothing short of an adventure and has drawn people here to explore, picnic, and stay since the early 1860s. It's one of the state's earliest parks and offers prime camping among some of the most beautiful pine trees you'll ever see in your life. There are even playground structures for the little ones! It's a favorite among area residents—both new and old—and is the perfect way to ease into what it's like to live in the region.
Don't forget to make a reservation (they're required)!
Backbone State Park
This is Iowa's first-ever state park and geographically—it's pretty mind-blowing! Located in the Cedar Rapids Area near Independence, the steep, narrow ridge of the Maquoketa River's bedrock forms the highest point in northeast Iowa—also known as The Devil's Backbone—which is where this park got its legendary name.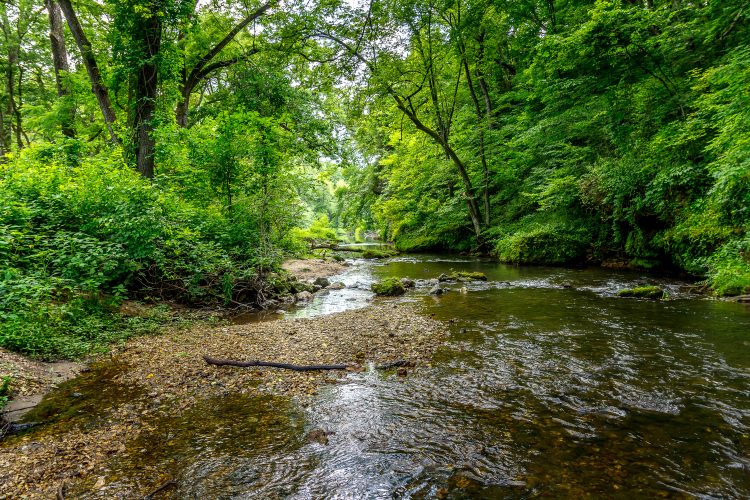 Backbone State Park consists of a 21-mile trail system that gives visitors a number of options to explore the area. From rock climbing at Backbone Trail and fishing in Backbone's clear-blue Richmond Springs to boating on Backbone Lake or visiting the Civilian Conservation Corps (CCC) museum near the park's west gate for some storied history, this park seriously has it all.
Open Tuesday – Saturday, 8am to 4pm.
Pikes Peak State Park
Located in the Dubuque, IA area, Pikes Peak State Park is famous for its views of the Mississippi River. In fact, it's one of Iowa's premier nature destinations because of its location right on the national scenic byway. Paved sidewalks and boardwalks lead visitors to an overlook that opens up to stunning falls as well as the confluence of the Mississippi and Wisconsin Rivers. It has tons of campgrounds, benches, picnic tables, vistas, and iconic bluffs. Make sure to explore the Effigy Mounds National Monument, too, which is about seven miles north of the park.
Open Monday – Friday, 4am to 10:30pm.
Lake MacBride State Park
For all you water enthusiasts out there, Lake MacBride is about to become your new favorite place. About 25 minutes from Iowa City, Lake MacBride's tranquil waters and a relaxing vibe is the perfect place for paddleboarding, kayaking, canoeing, or just lounging around in your tube while catching some rays. There are also hiking and biking trails, boating and fishing opportunities, and modern campsites. This popular lakeside destination offers a bunch of family-friendly outdoor activities.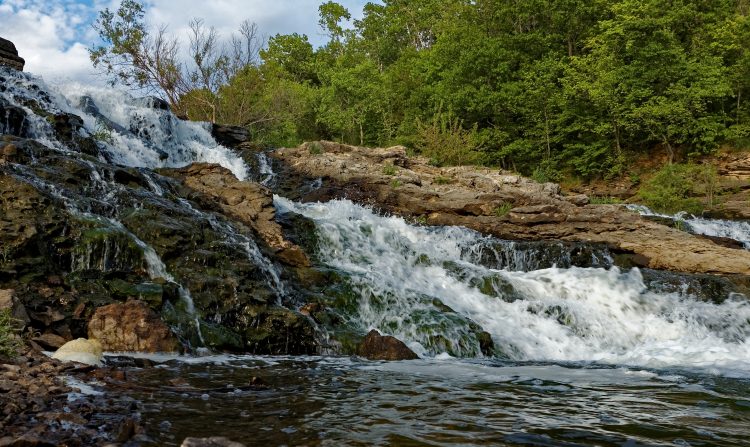 As Lake MacBride is a common venue used for family reunions and large gatherings like weddings, we recommend making an advanced reservation before you visit!
Lewis & Clark State Park
Although there are tons of reasons to visit Lewis & Clark State Park, our main one is learning more about their expedition at the Visitors Center. It's so interesting! Not only is there a reproduction of their keelboat, but there are also opportunities to see wildlife, plant life, and more. You can boat and swim in the refreshing waters of Blue Lake (which is about 35 minutes away and near Sioux Falls). You can fish (for panfish, bass, or pike) and camp lakeside as you explore this historic area and all that it offers.
Never Stop Exploring
With 60+ Iowa State Parks scattered throughout our beautiful region, it was SO hard to choose only these few to highlight! Iowa has so much to offer residents when it comes to outdoor recreation—and these parks are just scratching the surface!
If you want to learn more about our favorite places to visit in Iowa—both indoor and outdoor— give us a call! We will point you in the right direction and help you find the perfect home so you can set down roots, too.